Against all odds, Ukraine grows agricultural exports in August
Grain export (Photo: STR/IGOR TKACHENKO)
Despite the termination of the grain agreement, Russian attacks on ports, ban on grain exports to five neighboring countries, Ukraine managed to export 4.3 million tons of agricultural products in August, which is 16% more than the July figure, reported the Ukrainian Agribusiness Club.
"Such export volumes in August 2023 are an incredible result. Despite all the obstacles, Ukrainian farmers and traders continue to provide the world with the necessary food," the message says.
The export of oil crops increased the most in August. This is primarily due to the end of the rape harvest in Ukraine.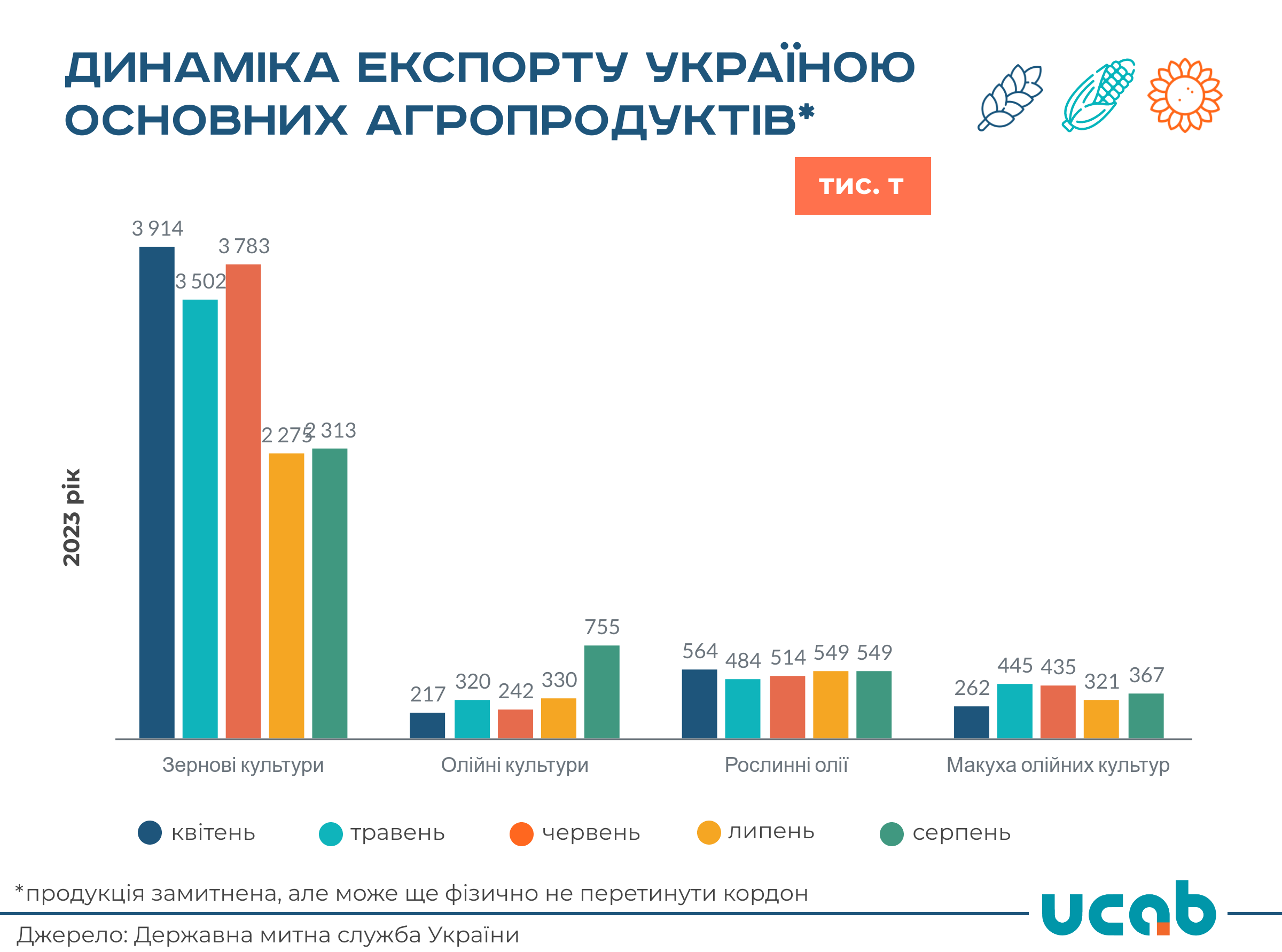 In August 2023, Ukraine exported:
→ grain crops – 2.3 million tons (wheat – 52%, corn – 39%, barley – 9%). Growth compared to July +2%;
→ oil crops – 755,400 tons (rapeseed – 94%, soybeans – 4% and sunflower seeds – 1%). Growth by 2.3 times;
→ vegetable oils – 548,900 tons (sunflower oil – 81%, rapeseed oil – 17% and soybean oil – 2%). Growth 0%;
→ oil cake after extraction of vegetable oils – 367,300 tons (sunflower – 98%, soybean – 2%). Growth of 15%.
According to UCAB, the most productive channel remains the Danube river ports. Through them, 64% of agricultural products were exported in August.
"Not all products had time to physically cross the border, as a significant amount of transport is still waiting in lines for departure, and this trend became more noticeable in August," UCAB emphasized.
At the beginning of September 2023, the Ukrainian Grain Association increased the harvest forecast by another 3.7 million tons to 80.5 million tons of grain and oilseeds.
After withdrawing from the Black Sea Grain Initiative back in July, the Russian Federation increased its own grain exports to a record level.
If you notice a spelling error, select it with the mouse and press Ctrl+Enter.
Latest news