Court cancels seizure of corporate rights of Kolomoisky's gas company for one day
Фото - Укрнафтобуріння
The Pechersk District Court of Kyiv canceled the seizure of the corporate rights of Ukrnaftoburinnia PJSC, affiliated with Ihor Kolomoisky, Vitaliy Khomutynnik, and Pavel Fuks, according to the court's decision seen by LIGA.net.
The decision of the investigating judge is not subject to appeal.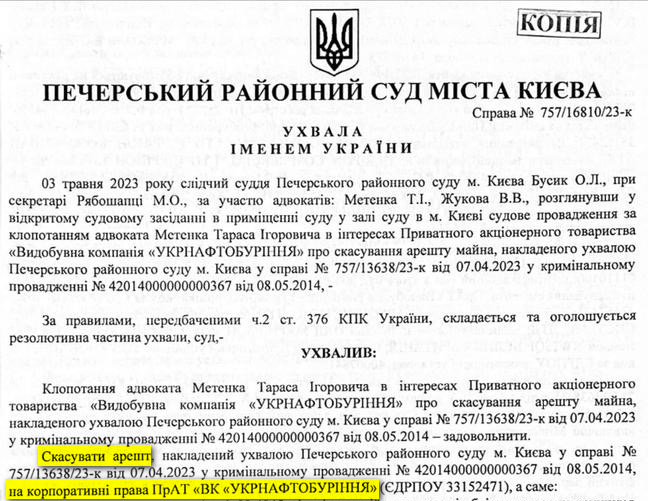 At the beginning of May, the same court arrested and handed over to the state Asset Recovery and Management Agency the equity stakes of four shareholders of the company:
→ 45% of shares owned by Deripon Commercial Ltd.;
→ 22.5% of shares owned by Ariana Business Limited;
→ 22.5% owned by Ares Systems Ltd.;
→ 10% of shares owned by JKX Ukraine B.V.
The arrest took place within the framework of the investigation of the case of illegal possession of the subsoil of the Sakhalin oil and gas condensate field in Kharkiv Oblast.
After that, the British group JKX Oil & Gas announced that it would sue Ukraine.
4:10 p.m. UPDATE. The press service of the State Bureau of Investigation reported that on Thursday, the court re-arrested and transferred the corporate rights of Ukrnaftoburinnia to ARMA.
"The SBI warns 'interested' parties against similar decisions regarding the rest of the arrested companies and promises to act as quickly as possible," the agency said.
If you notice a spelling error, select it with the mouse and press Ctrl+Enter.
Latest news