Ukrainian businesses increase financial support for Armed Forces, survey shows
Фото: Генштаб ВСУ
More than half of Ukrainian businesses provide financial support to the army and people, and 61 percent support their employees who are now serving in the Armed Forces, a survey by the European Business Association (EBA) has revealed.
While in July 34 percent of Ukrainian companies helped the army financially, the figure rose to 56 percent this month.
Moreover, 49 percent of companies continue to support the Armed Forces and the population with their own products, 26 percent provide services, 21 percent supply medications, and 18 percent offer protective / defence equipment.
The number of companies operating at full capacity remains stable, at 69 percent of the EBA's companies in the third quarter of 2023, with another 31 percent of companies operating with certain restrictions.
The number of businesses that fully meet their salary payment obligations is increasing. Currently, 93 percent of businesses are doing so, which is higher than at the beginning of 2023 (89 percent) and in July (61 percent).
The Ukrainian business maintains financial stability. Currently, 43 percent of participating companies have a 'financial cushion' for more than a year, 25 percent for a year, 20 percent for six months, and two percent for a few months. Only six percent of businesses have no financial reserves.
For 16 percent of entrepreneurs surveyed, war-related losses have exceeded USD 10 million. Another 35 percent report losses in the range of USD 1 to 10 million, and 38 percent report losses up to USD 1 million. 19 percent of companies still have assets in occupied territories.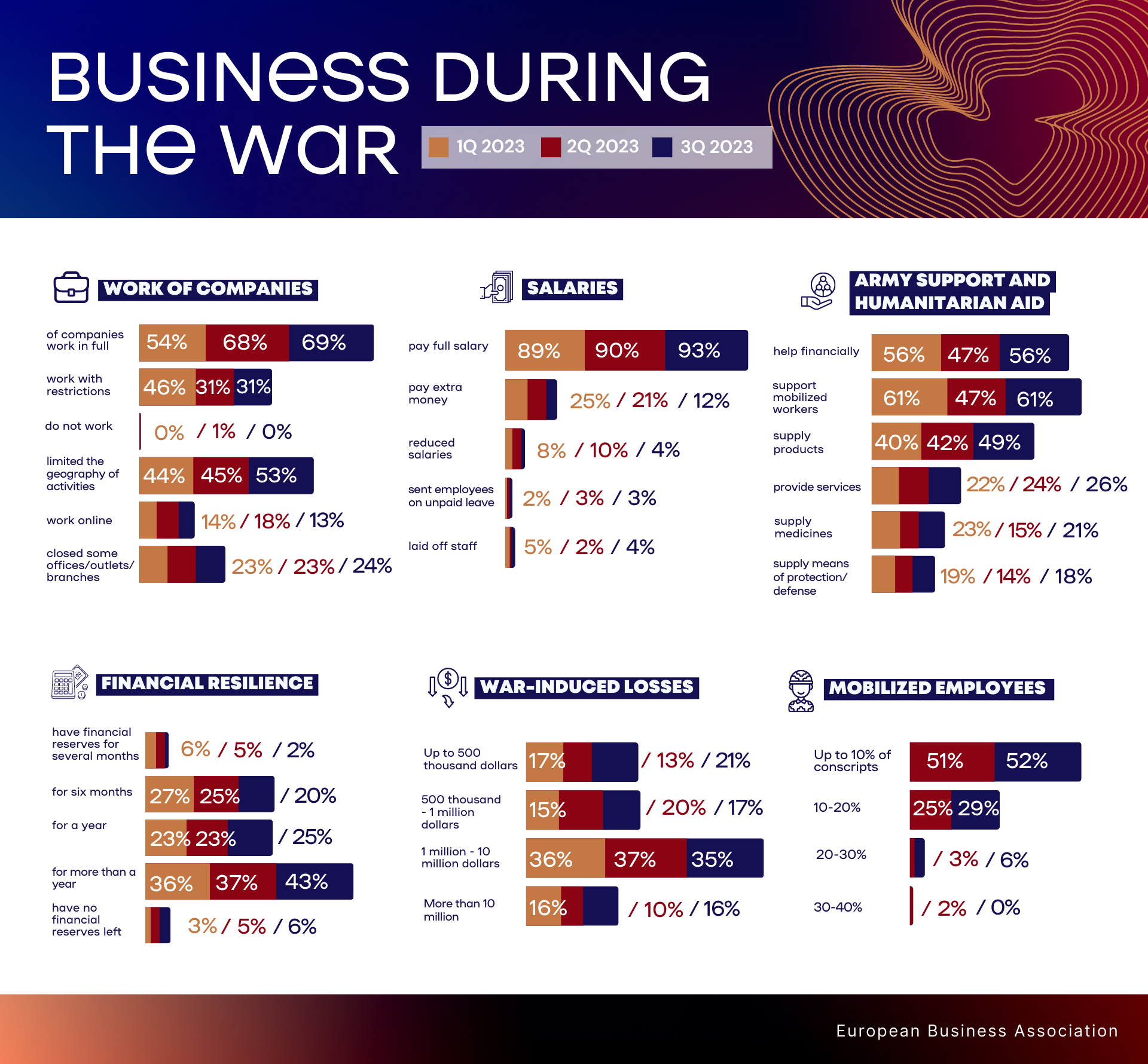 The number of mobilised workers in the member companies of the EBA has remained relatively unchanged over the past three months.
Currently, in half of the companies (52 percent), up to 10 percent of the total conscripted workers have been mobilised. For 29 percent of companies, the number of mobilised employees reaches 10 to 20 percent, while six percent have 20 to 30 percent mobilised. Nearly half, specifically 47 percent of companies, have critical specialists for their operations who have been mobilised, including engineers, IT professionals, logistics experts, electricians, mechanics, technologists, and drivers.
Despite the difficulties, 35 percent of surveyed businesses have reported that they have implemented or plan to implement new major investment projects in Ukraine since February 2022.
These projects include, for instance, the opening of new plants or the expansion of existing facilities, the construction of warehouses and production spaces, farms, registration of new products, expansion of land banks, and investments in IT.
The survey was conducted from 25 July to 15 August 2023, with 97 top managers of EBA member companies participating.
If you notice a spelling error, select it with the mouse and press Ctrl+Enter.
Latest news