Privatization of Bilhorod-Dnistrovskyi port fails after winning bidder fails to pay
Photo: SPF
The company Ukrdoninvest of businessman Vitaly Kropachov failed to pay for the Bilhorod-Dnistrovskyi Sea Trade Port, which it was going to privatize, the press service of the State Property Fund reported.
LLC Ukrdoninvest offered UAH 220 million ($6 million) for the port at the auction, but never remitted the money. The payment deadline was April 10.
On this basis, the Fund recognized the auction for the sale of the port as not having taken place.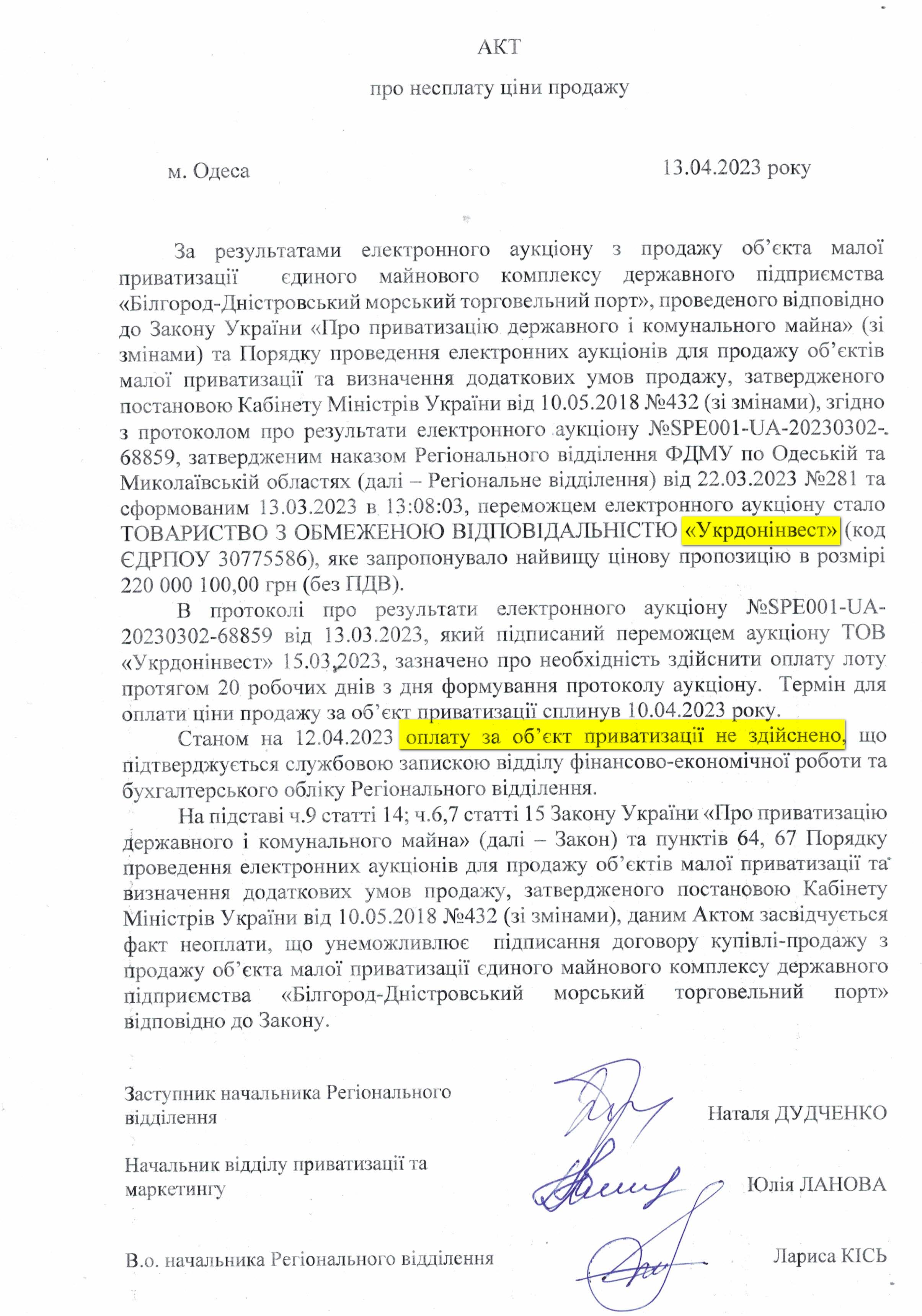 The SPF is going to put the southern Ukrainian Black Sea port up for a new auction again — for the third time.
In recent years, the Bilhorod-Dnistrovskyi Sea Trade Port has been operating with losses in the range of UAH 24-29 million per year ($649,000-785,000), but in 2022 it managed to reach a minimum profit of UAH 63,000 ($1,700). At the same time, the income increased 22 times — up to UAH 36.9 million ($998,000).
The State Property Fund put up the Bilhorod-Dnistrovskyi Sea Trade Port for privatization at the beginning of March, but the auction was deemed not to have taken place. After that, the starting price of the port was halved — from UAH 187.6 million ($5.1 million) to UAH 93.8 million ($2.5 million).
In 2020, for the first time, Ukraine began to grant concessions to seaports — these were the Mykolaiv Port of Olbia and the Kherson Sea Trade Port. In the same year, the Ministry of Infrastructure announced that it wanted to sell three ports (Bilhorod-Dnistrovskyi, Skadovsk, Ust-Dunaisk) and give a concession to six more (Chornomorsk, Berdyansk, Odesa, Izmail, Mariupol, Reni).
On January 17, 2023, the first auction for the sale of a sea port was held - the Ust-Dunaisk one.
If you notice a spelling error, select it with the mouse and press Ctrl+Enter.
Latest news