Anti-trust agency to probe Ionity network of EV charging stations
Photo: Ionity
The Antimonopoly Committee of Ukraine last week started a case against the network of charging stations for electric cars Ionity, the press service of the agency reported on Tuesday.
Its competitors PE Avtoenterprise and PE AE Factory of businessman Dmytro Nikonov complained about the company's activities.
The companies said that Ionity LLC allegedly spread false information about their work. In particular, they discussed the adoption by the management of these companies of a decision on bankruptcy and subsequent liquidation of the enterprises. The applicants believe that this libel may harm their business reputation.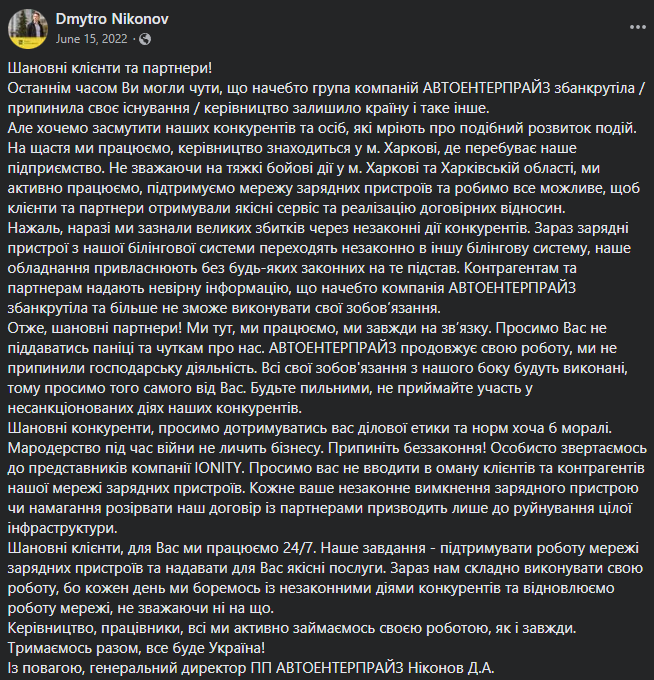 "The dissemination of false information related to the activities of the private enterprise Avtoenterprise and the private enterprise AE Factory contains signs of a violation provided for in Article 8 of the Law of Ukraine 'On the Protection of Economic Competition'. Therefore, the Committee has opened a case," the AMCU said.
However, Ionity told LIGA.net that the company's legal department is still waiting for a decision on the initiation of the case for its detailed study. So far, no decisions have been received from the Antimonopoly Committee of Ukraine.
The company also drew attention to the fact that Ionity LLC is indeed the applicant in the bankruptcy case of PE AE Factory. In November 2022, the company applied to the Commercial Court in Kharkiv Oblast with a statement to initiate proceedings due to a debt of more than UAH 2 million ($54,349).
Currently, there are 10-11 large players in the Ukrainian EV charging infrastructure market and many small operators who own several charging stations, Vadym Ihnatov from the EV-UA association told LIGA.net. The most notable are Toka, Ionity and Avtoenterprise. According to Ihnatov, they own about 80% of the market.
If you notice a spelling error, select it with the mouse and press Ctrl+Enter.
Latest news